GutzBusta® Large Square - 8x4x3 Bales
GB-LARGE SQUARE 4CM 48PLY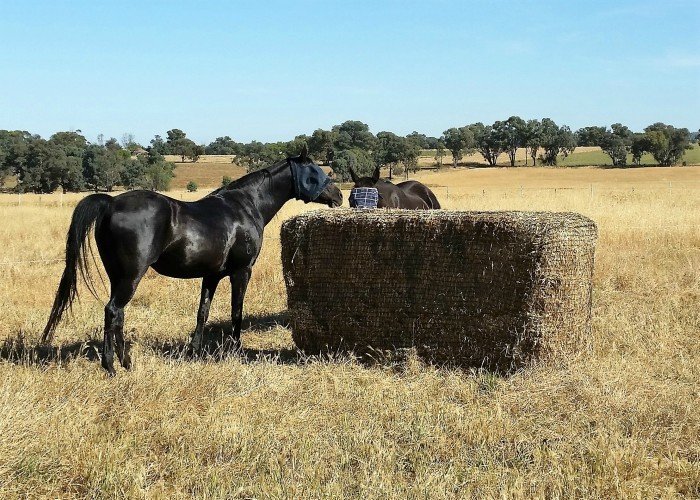 LARGE GUTZBUSTA® EXPORT BALES - 8x3x3 / 8x3x4
One size fits both the 8x3x3 and 8x4x3 bales.

New design means they are larger and easier to put on
. All sizes in BLACK.
Don't waste your hay. Order a GutzBusta today!
Reduce the incidence of colic, choke, stomach ulcers, boredom, hay wastage, stable vices but simulate grazing.
How do I decide what hole size will suit my horse or livestock?

3cm - Great for really Gutzy eaters. Ponies, laminitic horses or if your hay is REALLY palatable and you want to slow consumption even more. Recommended for horses and ponies that have tried slow feed hay nets before as some horses may be frustrated by this size, others accept it without hesitation. Despite no top teeth, we have customers whose cattle can still eat from this size net with palatable hay. Available in 48ply.
4cm - Our most popular hole size. Great to slow down feeding and save on hay wastage plus many other health benefits. Available in 48ply and 60ply. Good general purpose hole size, 95% or horses have no trouble accepting this size net hole. Good size for cattle, sheep, goats, donkeys and alpacas too.
6cm - Great for brood mares, old horses or any horse, cow, sheep or goat that you aren't trying to restrict hay consumption with but still stop hay wastage. Please note to make sure the hoof size is greater than the hole size. A hay ring or physical barrier is recommended if this is a concern. Also great for less palatable hay, coarse or stalky hay. Available in 60ply.
Why use a GutzBusta for your horse or livestock?
Decreases wastage of a large square bale amazingly and also the bale to last longer. Up to 40% less wastage when using a GutzBusta® Large Square Bale hay net.
Easy to put on, simply place your large square bale on its side so you can cut the strings, then open and lay the hay net along the top of the bale. Simply pull the net down towards the ground until it totally surrounds the bale, then take up the slack with the draw string and secure the net around the bale. We do suggest that you leave one string in place on your bale (bottom or second bottom string) to give the bale and net support until some of the bulk of the hay has been taken out. Especially as some of these bales can be around 600 kg.
When you tie up and secure the draw string, make sure the excess rope is either tied back up into the netting OR tie a knot in the drawstring at the base of the net and then undo the simple knot at the end of the drawstring and then you can leave remaining drawstring loose.
Comes with a large drawstring to easily secure the hay net around your round bale.
We recommend leaving one string be left uncut near the base of the bale so that it helps support the net while it is new and possibly weighing 500 to 700 kg. Once some of the bulk is eating from the bale, then we recommend cutting and removing this final string.
Video:
Click here to see our horses eating from a 4cm GutzBusta 5x4 Round Bale Hay Net in 48ply.

Size Range:

Our GutzBusta® 8x4x3 & 8x3x3 LARGE SQUARE hay nets come in a variety of netting hole sizes and ply's:
4cm 8x4x3 & 8x3x3 LARGE SQUARE - 48ply Round Bales - black in colour
4cm 8x4x3 & 8x3x3 LARGE SQUARE - 60ply Round Bales - black in colour
3cm 8x4x3 & 8x3x3 LARGE SQUARE - 48ply Round Bales - black in colour
6cm 8x4x3 & 8x3x3 LARGE SQUARE - 60ply Round Bales - black in colour
Please note that any of the GutzBusta® 8x4x3 & 8x3x3 LARGE SQUARE Hay Nets will fit the 6x4 round bales, and therefore any size of round bale. This makes them a truly versatile, cost effective and multi-functional hay net.
More about GutzBusta Slow Feed Hay Nets

As of August 2016, ALL sizes of our hay nets have had a revamp with a new draw string material used and more importantly, they have all had a size increase. Our hay nets are now the most generous sized hay nets in Australia. They all have wide mouths that make filling much easier. As we have been making them for over 6 years now, we know how they nets respond with 24/7 use and have made adjustments to make sure your hay nets remain easy to fill, and the best available on the market.
Our Larges are unique to all other slow feed hay nets in Australia in ease of use and design.

Square mesh pattern which means that no matter how much or how little hay is inside the net, they are always easy to eat out of it, unlike diamond shaped holes that collapse down on themselves as the hay net empties.
They are made from UV stabilised, pre-stretched polyethylene netting. They are tough and strong.
These nets have over-locked side stitching along the side seams to make them a tough and durable Hay Net. All nets have been designed by us and we have worked out the best sizes to suit Australian conditions. We have been making these nets for over 7 years and thanks to customer feedback, we have developed a hay net superior to others available in Australia. They are very generous in sizing with wide mouths to allow them to be easily filled.
New 60ply available in 4cm and 6cm sizes (not available in 3cm). 60ply is a heavier duty netting material and is therefore stronger for those horses that are hard on things. Horses that paw a lot, pull at rugs, chew things, young horses or a few horses sharing the same net would all benefit from the 60ply. The 48ply has served both our own horses and many clients very well over the years, but some horses require a bit more strength in the 4cm.
There are no metal joins of any sort on these nets, so nothing harmful for your horse to chew. All nets come with a polyethylene draw string that is easy to tie and untie knots with. If a hole does start from getting caught on something, they are easily repaired, and all nets are supplied with a repair string (just like good quality jackets/jumpers come with a piece of extra thread).
Do not leave buckled halters or other type of buckled head gear on your horse when using ANY type of hay net as your horse may get caught. If your horse is shod then simply tie your net up a little higher or put your net inside a box or other device that stops their feet coming into contact with their hay net. Similarly, do not let horned animals such as cattle, sheep or goats eat from the hay nets as they may tear the netting or get entangled.

GutzBusta® Slow Feed Hay Nets:
GutzBusta® Slow Feed Hay Nets
Size
4cm - 48 ply - 8x4x3 & 8x3x3 LARGE SQUARE - $147.50 (0) 4cm - 60ply - 8x4x3 & 8x3x3 LARGE SQUARE - $167.50 (0) 3cm - 48ply - 8x4x3 & 8x3x3 LARGE SQUARE - $160.00 (0) 6cm - 60ply - 8x4x3 & 8x3x3 LARGE SQUARE $147.50 (0)